News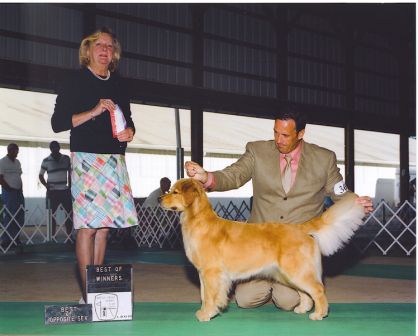 Mia becomes new American Champion Marshall, Michigan Aug. 2, 2009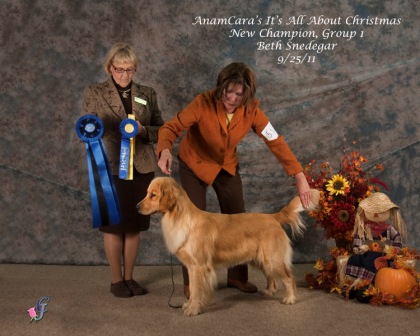 Christi becomes new United Kennel Club Champion
Ingham County Kennel Club, September 25, 2011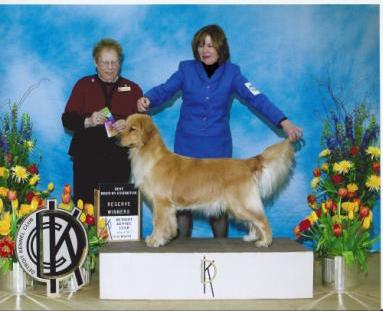 Christi took Reserve Winners Bitch and Group 3 Bred By Exhibitor competition at Cobo Hall on March 4, 2012
—————————————————————–
Mia has been bred to Brit, Castlerock Let It Be.  Ultrasound to confirm on May 11, 2011  Sire can be seen at www.castlerockgoldens.com
Mia had one puppy on June 23, 2012 bred to Brit, Castlerock Let It Be.  It took all of us by complete surprise.  I named her Anam Cara's Sweet Surprise and she certainly was.
Christi has been bred to Turbo, Gangway Kelore 911 Twin Turbo.  Ultrasound to confirm pregnancy will be done the week of September 19, 2012.
Ultrasound did confirm pregnancy today, September 17, 2012.  Dr. Schultz says at least nine.  He thinks ten.
Christi delivered 10 healthy puppies today, October 19, 2012, 6 boys, 4 girls.  Mom and pups doing well.  Photo on litter page.
Sebastian and I took Bred By Exhibitor Competition on March 3, 2013 at Cobo Hall.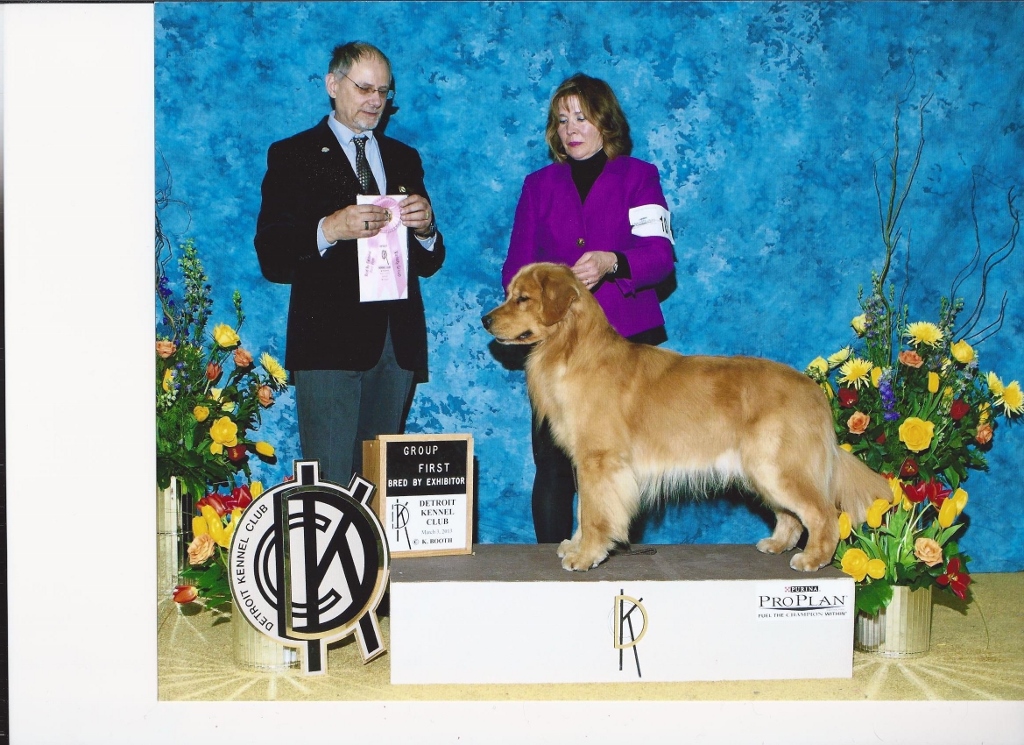 Sebastian earned his United Kennel Club Championship the weekend of March 9-10, 2013 in Mason at UKC Michigan Classic.  He earned Best Male all four shows and Best of Winners all four shows.
Three female puppies delivered by c-section this morning 5-06-2013.  Photo on litter page.
Sebastian won Winners Dog 6/12/13 and Winners Dog 6/13/2013 and Best of Winners at Marshall, Michigan, Calhoun County Fairgrounds,  for 3 points toward his AKC championship.
Hogan, Winners Dog, won two points at the Ingham County Kennel Club Show in East Lansing, Michigan on 12/01/13by beating out 14 other dogs.
Hogan became a UKC champion the weekend of March 7-9 and began working on his UKC grand championship on March 9 at Ingham County Fairgrounds.
Rosebud became a UKC champion also the weekend of March 7-9, 2014 at Ingham County Fairgrounds.
Sebastian, Anam Cara's Ultimate Wing Man Winners Dog and Best of Winners and Rosebud, Anam Cara's Sweet Surprise, took Winners Bitch at Monroe County Fairgrounds, Sept. 27, 2014, Sebastian took Reserve on Sunday, Sept. 28, 2014.
Rosebud, Anam Cara's Sweet Surprise earned both Majors on July 4 in Monroe at Monroe County Fairgrounds and her last major at Marshall, Calhoun County Fairgrounds on July 12, 2015 to earn her American Championship.